Haven House, Belize, Central America, this morning, was gifted ten thousand dollars by Marie Sharp's Fine Foods Limited. The monies will be used to assist Haven House in achieving its goal of helping victims of domestic abuse. The cheque was handed over by Jody Williams, the company's Chief Marketing and Sales Director who spoke to Love News.
The program started in 2019, which you can read about her in this original article.  Marie Sharp's has contributed more than $25,000 thousand dollars to help victims of domestic abuse.

In recognition of the important contributions women entrepreneurs make to local economies and local communities, we are bringing you a special impact story about how one amazing entrepreneur in Belize used her celebrity and her brand to raise awareness about gender-based violence.
There is a saying in Belize, "If you don't hit her, you don't love her."  The sentiment is appalling, and so are the statistics. It's estimated that about half of Belize's women are victims of domestic violence. When beloved and iconic Belizean hot sauce entrepreneur Marie Sharp heard about the scope of gender-based violence (GBV) in her country, she vowed to do something to stop it.
Natella Svistunova, Public Affairs Officer at the U.S. Embassy in Belize, had first approached Sharp about using a limited edition label, along with a special hashtag, on bottles of Sharp's globally-recognized hot sauce to bring attention to GBV during the annual, international

 

16 Days of Activism

 

campaign. Sharp, a 2016 Hot Sauce Hall of Fame inductee, decided to take it one step further: she would launch a brand-new pineapple habanero sauce,

 

Pure Love, with a special label designed with messages to combat GBV.  In partnership with Sharp's company,

 

Marie Sharp, the U.S. Embassy in Belize organized a program in schools to design the label for the new sauce, further raising youth awareness of this important issue. 

  

Sharp topped off the campaign by committing to donate the proceeds from the sale of

 

Pure Love

 

to Haven House, Belize's only shelter for women and children fleeing domestic violence. She also added this inscription to the winning label, which will appear on every bottle of

 

Pure Love: "Inspired by the U.S. Embassy in Belize, I am proud to launch and support this special product to help combat gender-based violence in Belize. The violence must stop, and together we can make a difference. Sale proceeds will go to Haven House and will directly benefit victims of gender-based violence."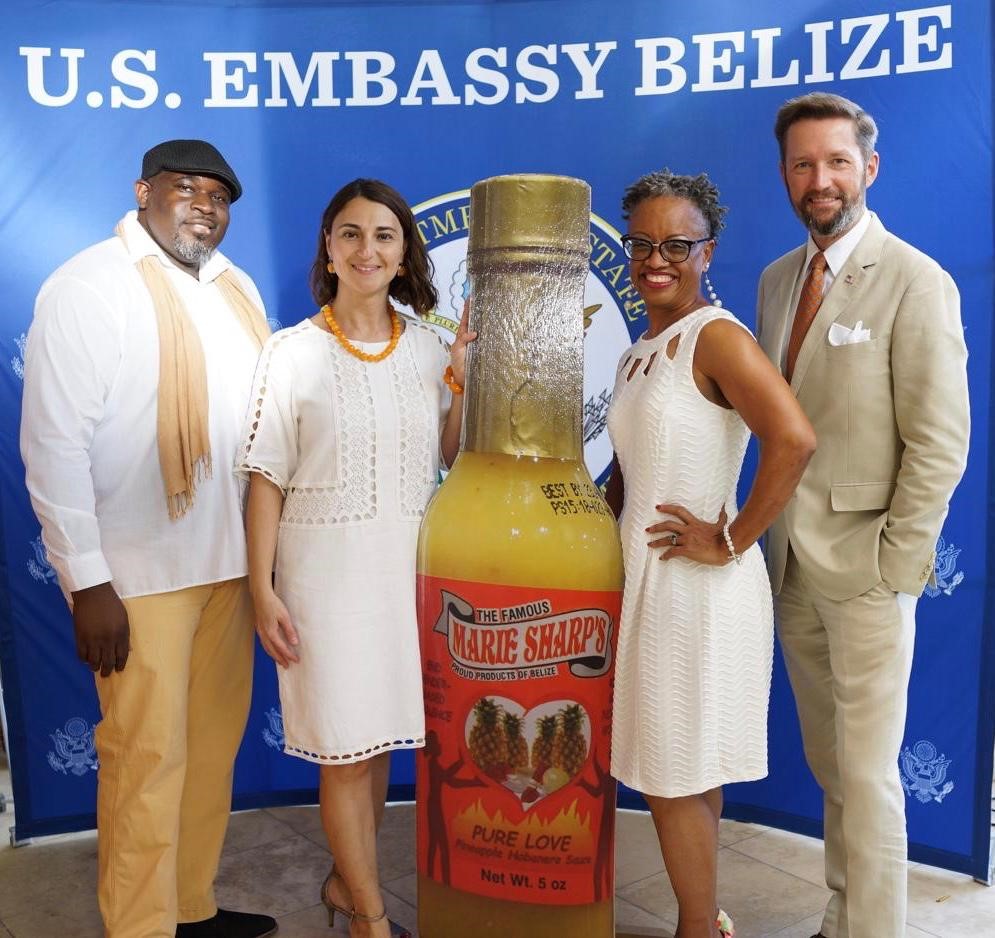 The impact of

 

the "Pure Love"

 

campaign has also made an impact across the Atlantic: Sharp's distributor in Germany recently pledged to send €2 of his earnings from every bottle sold to Haven House. 
Hats off to entrepreneur Marie Sharp and the U.S. Embassy in Belize for this remarkable partnership to fight gender-based violence, a global priority for the United States.
 
Photo Caption Information: (1) Marie Sharp, entrepreneur and owner, Marie Sharp's Fine Foods Ltd; (2) Marie Sharp and Natella Svistunova, U.S. Embassy in Belize; (3) Marie Sharp's "Pure Love" pineapple habanero pepper sauce; (4) Mervin Budram, musician; Natella Svistunova, PAO; Ketih R. Gigles, Chargé d'Affaires; and Alida Sharp, singer.